THE TEXAS HONKY TONK BLUES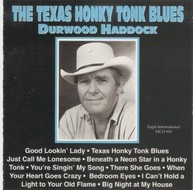 SONGWRITER'S MONTHLY/SEPT,1996
There may be no guarantees in life, but this might be as close as you're going to get. These songs with just the right mixure of country, swing and gentle gusto will keep you a clappin'n' a tappin' from beginning to end...guaranteed!


BLUE SUEDE NEWS/#34 SPRING
Durwood Haddock is co-author of the honky tonk classic THERE SHE GOES, his version of which is included among the 10 songs here. He's got a fine baritone voice, and the production on these cuts (some of which were originally intended for song pitching) is exactly what you'd want to hear. So it's surprising that this is Haddock's first album! Apparently he had some singles along the way, in a career which started in the 50's, and of course his songs were cut by others. Big Night At My House is listed as a 1962 hit. Haddock wrote 7 of these tunes, with Just Call Me Lonesome the most familiar cover. With honky tonk music coming back so strong just lately (among the alternative country set I mean, some of us never got away from it) it would seem like this is a natural. The tunes are somewhat more on the sentimental side of honky-tonk than the hard edged side, with the typical theme being a description of what folks are there for: drinkin', dancin' and lovin'.

Jason Shields/TEXAS JAMBOREE/AUG 98 ISSUE #12
Haddock has a knack for writing really good, basic honky-tonk songs, which he has been doing for sometime now. Out of the ten songs on THE TEXAS HONKY TONK BLUES, he wrote or co-wrote seven. He co-wrote THERE SHE GOES, a country standard that has sold more than 8 million copies by various artists. This CD showcases quite a few songs that Haddock has written since his start in the 50's. He was never one for the rock'n roll music that took off in the mid 50's, always standing true to country music. This album has some excellent fiddle playing and some cutting steel playing. This album is right for those who yearn to sit and sulk in a wooden bar, and maybe come up from the foam of their beer to yell out, Play a song that makes me cry!. So if you like that deep heartfelt lyrical country music and dislike whatever Nashville is force-feeding you at this time, give this CD a try. Even though Haddock went to Nashville to record this, it does not have the sound of today; it has what Nashville used to have when it was really good.

Amazon Editorial Review:
THE TEXAS HONKY TONK BLUES is western swing, traditional country and Texas shuffle featuring twin fiddles with steel guitar and top notch vocal. THE TEXAS HONKY TONK BLUES is a somewhat autobiographical story-in-songs of a man whose career stretches back to the early 1950's, the golden era of country music. The songs were recorded in Nashville, Tennessee resulting in a fusion of even handed honky tonk and western swing that Durwood learned as a boy in the Lone Star State. Each performance is the real thing, not rock music that calls itself country and ain't.
---
Duplication or Distribution of pictures, music or any other content of this site is strictly prohibited by

domestic and international law, without expressed written consent. 2013