Honky Tonk Crazy (And Other Love Songs)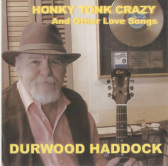 Best recognized for penning the country/pop classic THERE SHE GOES(Patsy Cline/Carl Smith ect.) Durwood Haddock shows a flair for some honky tonk and hardcore hurtin' with this collection of all original material, which also features Haddock playing all the instruments on the album.

The production and recording quality is sub-par, but Haddock makes up for it with his great songs.

Listen for some extra fun in the tune HONKY TONK CRAZY(AND BAR HOPPIN' MAD) which incorporates names of Texas country bars and honky tonks…similar to the classic I'VE BEEN EVERYWHERE".

Larry Delaney-Country Music News, Ottawa,Ontario, Canada. 2006-www.countrymusicnews.ca
HONKY TONK CRAZY (AND OTHER LOVE SONGS).With a co-write on the '50s country hit "There She Goes," -- and with numerous road houses, recording sessions, and radio programs to his credit -- Durwood Haddock was right there in the hot crucible of honky tonk, long before it went all sepia-toned. But to have the old master still kicking around in 2007 could be conceived as little more than a curiosity or stab at nostalgia, were it not for the quality of Honky Tonk Crazy (And Other Love Songs). The album takes a real stripped-down approach toward arrangement and instrumentation, with acoustic guitar and Haddock's big sorrowful voice out front and light washes of violin, occasional piano plunks, and the rare electric-guitar twang fleshing out the more subtle hues. One has to wonder where Haddock has been hiding these 13 originals, for most neo-honky tonkers would give their eyeteeth for just one of these nuggets. Haddock, here at 72, proves himself to still be a top-notch purveyor of traditional country music. These are deeply hollowed-out and comfortable tracks, with Haddock's careworn, unpretentious vocal delivery (which is somewhere in the neighborhood of Merle Haggard's) leading you through a land of old taverns, heartache, and hill towns that he knows all too well. There really isn't a loser in the bunch, but highlights include "You Can Count on Me (If You Can't Count Too High)," "(While the World Turns) Bluer Than Blue," and "Last Night I Really Had a Bawl." This is unabashedly tear-in-your beer stuff, but the relatively lo-fi atmosphere and the sui generis aura of Haddock himself add something stirring and nearly indescribable, though the word "real" certainly starts arriving at it. ~

Erik Hage, All Music Guide
"Once you get going in country music or whatever genre performers can by 18 to 81, you can keep going until you drop.

Case in point, Ray Price will turn 81 in January and shows no sign of quitting any time soon, so at 72, Durwood Haddock still has some tread left on his tires.

Involved in

country music all his life, as fiddler, DJ, songwriter, United Artists and Monument recording artists, publisher, booker and and record distributor, Haddock chrted several times in the outer reaches of the Billboard Top, 100 but though he never had a hit himself, his THERE SHE GOES was one for CARLS SMITH, JERRY WALLACE and as THERE HE GOES for PATSY CLINE, who also cut his I DON'T WANTA.

Though he put out his first single in in l954(the first recording of THERE SHE GOES & I DON'T WANTA on Four Star Records) HADDOCK didn't release an album until l995(the retrospective TEXAS HONKY TONK BLUES # 76) and it was another ten years until is second, I REMEMBER JENNY LOU CARSON(#103/192).

As on the the latter, HADDOCK plays all the instruments, fiddles, lap steel, guitars, harmonica, keyboard, bass and drums this time behind 13 originals.

HADDOCK I firmly rooted in the mid-50's, a rather unfortunate time for a young aspring country artist, whipsawed between the decline of Western Swing and the onslaught of rock & roll, which knoced classic honky tonk permanently out of mainstream country.

Of the 13 tracks, with old school titles the standout is HONKY TONK CRAZY(& BAR HOPPIN' MAD), in which HADDOCK leaves the doublewide to track down his errant sweetie, an I'VE BEEN EVERYWHERE odyssey that invoves hitting more real honky tonks and bars than you can shake a stick at---and if your joint somehow got overlooked, you take it up with DURWOOD".

John Conquest-3

RD

COAST MUSIC-2006.
An Old & Crazy Honky Tonk Durwood Haddock – Honky Tonk Crazy (And Other Love Songs) (Honky Tonkin/Eagle International) www.durwoodhaddock.com The Texas native, Durwood Haddock is an industry veteran and his songs have been recorded by such notable artists as Patsy Cline and Ernest Tubb. He released now his third album, a collection of 13 self-penned and self-played songs between country and honky tonk. Per la serie "un altro illustre sconosciuto che ha fatto la storia della musica made in USA", questa volta parliamo di Durwood Haddock, un vero e proprio veterano della scena country già autore di seguiti programmi radio, booker per grandi artisti nashvilliani ma soprattutto sopraffino e apprezzato cantautore al servizio di gente come Patsy Cline, Ernest Tubb, Carl Smith e Jerry Wallace. Di lui certamente qualcuno ricorderà There He Goes che compariva nella colonna sonora di Coal Miner's Daughter, celebre film del 1980 sulla vita di Loretta Lynn, ma anche in tempi più recenti la bella I Don't Wanta (scritta con Ernest Miller) che invece spiccava nel film The Whole Ten Yards del 2005. Il suo nuovo album, Honky Tonk Crazy (And Other Love Songs), ovviamente è un disco country vecchio stampo come solo Merle Haggard sapeva fare con tanto di potenti dosi di fidale, steel, shuffle e honky-tonk, il tutto cantato con una voce calda da crooner. Registrato presso il Wild Wood Flower Studio di Lamasco, Texas, il disco è composto da tredici brani autografi interamente registrati dal solo Haddock che ha suonato veramente di tutto, dal violino alla steel guitar fino al basso e alla batteria. L'ascolto rivela tutta l'esperienza di Haddock che sfrutta tutti i trucchi del mestiere per dare un senso al suo lavoro. Certo una maggiore attenzione nella registrazione, a tratti fin troppo casalinga, avrebbe giovato nell'economia generale del disco, ma non mancano alcuni brani di qualità come l'iniziale I Can't Drown My Sorrow, Baby One More Time e Last Night I Really Had A Bawl. Salvatore Esposito tutte le recensioni
Review By Salvatore Esposito/Ilpopolodel Blues Magazine,ITALY
Durwood Haddock Honky Tonk Crazy-And Other Love Songs Eagle International Records EICD 106 *** ½ Veteran hard-core country singer with a strongly traditional set The name Durwood Haddock may not mean a lot to some readers, but he has been involved in the music business for most of his life. Born in the rural county of Fannin, Texas in 1934 he took an early interest in country music, mastered a number of instruments and while still in high school he formed his own band. Interested in broadcasting, he enrolled on a course and soon secured a regular job as a DJ with a radio station. He played with a number of bands, and in 1955 he teamed up with a fellow musician and songwriter, Eddie Miller. Miller had already enjoyed success as a writer after having penned Release Me, which has been recorded countless times over the years. Together, Haddock and Miller wrote There She Goes, which Haddock, under the name 'Haddock Daily' recorded for Four Star Records. It didn't do much, but later that year it was picked up by Carl Smith who had a Top Ten hit with it. Later it was recorded by Patsy Cline, who also recorded another Haddock/Miller composition, I Don't Wanta, and in 1961 Jerry Wallace covered There She Goes once again scoring with it. Almost twenty years later the same song featured in the Oscar winning Coal Miner's Daughter. In 1962 Haddock set up his own Eagle Records, the label responsible for his current release. Over the years Haddock continued broadcasting, playing in various bands and he recorded a number of singles for labels like Caprock, D Records, United Artists, Cimmaron and Monument as well as appearing on the famed Big D Jamboree in Dallas. Haddock stopped touring in 1968, moved to Nashville and set up a publishing company. A couple of years later he founded the Curtis Wood Agency, which booked many of the biggest names in country music. He was also involved in radio promotion and record distribution, relocating to Texas in 1992 from where Curtis Wood is still actively engaged in the promotion and distribution of country music. Heavily involved in so many areas of music, it wasn't until 1995 that Haddock decided to record again, releasing his first album THE HONKY TONK BLUES that year. Ten years later he followed that up with a tribute album to the great songwriter, Jenny Lou Carson titled I REMEMBER JENNY LOU CARSON. That album was critically acclaimed and now, a year later comes HONKY TONK CRAZY, a thirteen song collection of brand new, original material composed by Haddock. As the title implies the songs are solid numbers written in a style which harks back to the Golden Age of honky-tonk with titles like I Can't Drown My Sorrows (You Taught Them How To Swim), I'm Tired Of Waiting 'Round (Til' You Get Around To Me), Bluer Than Blue, (I Want You To) Take All The Memories and Honky Tonk Crazy (And Bar Hopping Mad), which lists almost every honky tonk and spit-and-sawdust bar which ever had a jukebox crammed with tear-jerking songs. Now, aged 72, Haddock has a pleasing, smoky voice ideally suited to his material but if there is anything which lets this album down slightly it lies in the backings. Haddock is an experienced multi-instrumentalist who can handle fiddle, guitar, steel, bass, percussion, harmonica and keyboard with equal dexterity and he has chosen to demonstrate his ability by playing all these instruments. No other musicians are listed and as a result there are times when the backings start to sound 'samey'. Haddock would have benefited by engaging one or two other musicians, particularly on keyboard and electric lead. Although it may be commendable for an artist to 'go it alone', it is not always expedient for them to write all the material, furnish all the backings, produce the album on their own label and then distribute it through their own company. A little moderation and perhaps some constructive criticism could well have elevated an otherwise good release into an excellent one.

Larry Kelly © Maverick Magazine 2007
HONKY TONK CRAZY & OTHER LOVE SONGS-Excerpts from

Country Music People Magazine-London Uk 1/2007 Al Moir

.How a septuagenarian, DURWOOD HADDOCK has been involved in the music business most of his life. Early in his career he released a few singles, but then he concentrated on writing and enjoyed considerably success. He played a variety of instruments in various groups, became invoved in promotions and record distribution and only got around to recording his first album, THE TEXAS HONKY TONK BLUES in l995. Another decade passed before is second, I REMEMBER JENNY LOU CARSON, an outstanding writer and HADDOCK'S tribute worked extremely well. On this, his thrid album Haddock has recorded 13 brand new originals from his own pen and had these songs been around in the late 50's they could easily have been picked by Jim Reeves, Hank Thompson & Ray price. In fact with his pleasing baritone Haddock could well have made a bigger name for himself had he cut some of these songs back then. Of particular interest is the title track HONKY TONK CRAZY(And Bar Hoppin' Mad):those who recall I'VE BEEN EVERYWHERE will remember it was a gazeteer of colourful place names, and here the track is a roll call of no less than 77 famous honky tonks, rattled off like bullets from a rust old Sten gun. If there is a disappointment, it's not in the quality of the songs, it's with the backing. The album is an enjoyable experience but with a little more help from other musicians, it could have been even better.
---
Duplication or Distribution of pictures, music or any other content of this site is strictly prohibited by

domestic and international law, without expressed written consent. 2013