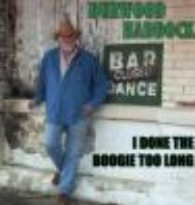 I DONE THE BOOGIE TOO LONG
Excerpt from Country Music People Magazine, London UK
by Julie Flaskett 10/08


Durwood Haddock has been enjoying something of a
renaissance in his recorded out put these past few years. During a long
and colourful career he has worked both sides of the industry: as a songwriter, performer, musician, and later on the business side, publishing, booking promotion and distribution. His biggest success as an artist came through songwriting and here it shows he's not lost his touch on a set of mostly
original material. Still rooted in traditional Texas country this album
has a resigned, laid-back feel, the songs reflecting both the good and band
memories of a life along with a slew of regretful barroom ballads on which
HADDOCK'S weary baritone works well. There's an honesty in his songs and
his warm-hearted and worn-in vocals are hard not to connect with.
Listening to I DONE THE BOOGIE TOO LONG felt a little like I'd accidentally
tuned into '50s AM radio, a sort of Texas time-warp, that, sadly is not the
future of country music.

---
Duplication or Distribution of pictures, music or any other content of this site is strictly prohibited by domestic and international law, without expressed written consent. 2013